Afternoon all!
As secretary of The Weald of Kent Ploughing Match Association for over 20 years (one of the largest match in the SE of England) I am acutely aware of the sadness and disappointment our ploughmen, visitors and supporters have felt following our recent cancellation of the 2020 event due to the current C-19 crisis. We are certainly not alone in having to make this sad decision but remain optimistic for 2021.
My day job is within the events industry, and we moved our headline show onto a virtual platform for 2020 which remain accessible until the end of December. This event is for the UK Wine Industry - as far removed from ploughing as its likely to get! However, we have looked at doing something very similar as a charitable event across the UK & Ireland in aid of all the Air Ambulance Trusts.
We are very keen supporter of our local Air Ambulance Trust here in Kent through our annual winter event - The Farmers Ball which has also been cancelled for 2020, and so we wanted to roll something out that will benefit all of the Air Ambulance Trusts nationally, especially when fundraising and their reliance on events to support their funding is being adversely affected.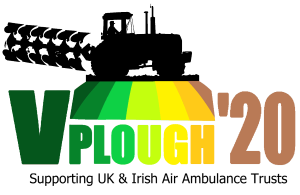 Vplough - the UK's first virtual ploughing match and steam rally is now live! - www.vplough.co.uk - and we have asked entrants to donate their entry fee directly to their chosen Air Ambulance Trust and not to us. We have suggested £10 per class, but asked if they can donate more then please do so!
We have secured some financial support from The NFU Mutual which covers the build time of the website, and we are on the hunt for more sponsors which will mean we can make a substantial donation as well. - that's the plan!
The website will remain live for a minimum of 12 months and provide a meaningful extended platform for everyone involved looking to maximise their contact with potential customers and contacts when physical events and site visits are not possible. If successful, we would look to make the event an annual fixture as well.
In a nutshell - there are multiple ploughing classes, machinery showing classes and a steam rally! Each entry is free but with the added encouragement to make a donation to their local Air Ambulance Trust (links will be clearly visible at the point of entry, and then would upload 3 photos and a video (optional) to the relevant class. All judging would be done remotely by a number of judges from different areas, and cash prizes to the individual class winners would be awarded.
VPlough is very much designed to be a bit of fun for the entrants, a means of fundraising for charity, and something for all those missing their Autumn events to get involved in from the comfort of their own sofa. I am sure everyone will enter into the spirit of the event. The steam-plough community would also host their own part of the event which will draw visitors from across the UK and Europe!